The Top 10 AI Content Writer Tools That Everybody Should Know About
You're not sure which program to buy and you need some help finding the best AI-based content writing program for your needs. Perhaps the thought of using an Artificial Intelligence tool is actually cringe-worthy to you, but there is this growing question, "Do AI content tools work? and How do they work?!".
It's hard enough trying to figure out what programs will suit our needs, but it can be even harder when we don't know anything about them! At times like these, it would be great to enlist a friend or two who have experience with AI content writing tools so that they can point us in the right direction! But who has friends like that?
I can be that hero…errr… friend. If you want to know more about the top 10 AI content writing programs, then this article is for you!
AI content writing software is a branch of computer programming concerned with algorithmic problem-solving capability, specifically intelligent behavior. Which means that it is software that makes use of inputs and outputs towards a content-producing product. These algorithms can be used for purposes such as understanding text and speech, and interacting with people. AI content writer programs use learned human interaction to build content for blogs, social media posts, script outlines and more.
This article looks at 10 of the top AI programs, with a highlight of 3 that hit the mark for good SEO. It features the top pick, Outranking.io, which is selected for its long form content abilities. It was also used to compose this review article. There is a 4th program that gets an honorable mention as an interesting use of AI on a different level. The software in this list is selected for their SEO impact and article building strengths. I was looking specifically for the BEST long-form content writing tools.
Note: I would not recommend any of the ai content tools as a replacement for human copy and content writers. (see video for the reasons)
Also, there are links below, but remember to check AppSumo first for any potential deals on the tools listed.
Here are the 10 Best AI Content Writer Tools in no particular order. (located below the video review)
JARVIS AI
JARVIS is a comprehensive content writing platform that can create engaging and high-quality copy for ads, emails, websites, listings and blogs. With the AI engine in place using the same GPT-3 technology produced by OpenAI that all of the content writers are using for AI, Jarvis can generate unique text every time based on your specifications or keywords you provide it with. It is also one of the most popular of the Ai software programs out there.
The JARVIS software also allows users to track their progress by showing how much they've written through word count and story completion percentage in real-time so that they know what's working best for them within the program.
Pros of Jarvis
High converting copy
Jarvis is influenced by copywriters and conversion experts
Stir up inspiration
Great for headline ideas and listicles.
Cons of Jarvis
Price is high for the best features.
Limited text length.
Lacking customer support.
Starting price of Jarvis: $29/month (7-day money back guarantee)
---
OUTRANKING AI – Top Pick for this Review
Outranking is a writing and researching platform that helps you find the most relevant content for your audience. Here is the gem in the bunch, in fact the entire article written in this video and published on the website link below is written using Outranking AI
The AI program in Outranking is able to help you find the most relevant articles for your audience. It does this by parsing information about what people are searching on, and then finding related content. It then helps create and optimize content using advanced artificial intelligence algorithms, and natural voicing styles to compile the ideas.
Outranking has SEO scoring, true SERP analysis, and the ability to add copy from research that helps develop the writing. The "methods" used in Outranking are public or private custom procedures stored in a library that can be used at any time to influence tone and content styles. Outranking also allows for on the fly translation using AI with as many as 50 languages.
Pros of Outranking AI
There is great support for the platform, which leads to a promising future
It makes it easy to write an article with good quality, and review it later.
Outranking AI works with sections that can be combined for natural flow.
It is great for blog posts, articles and more.
Its focus is on quality, rather than quantity.
SEO optimization.
Cons of Outranking AI
Pricing, though better than others can cost you with add-ons to gain more words.
Pricing of Outranking: Standard Plan $39/month with rollover credits. (Free Trial)
---
WRITESONIC
WRITESONIC is a content writing service that offers top-quality, custom written articles for individuals and businesses. The company has helped thousands of clients get the most out of their marketing efforts.
WRITESONIC offers clients the opportunity to stand out from their competitors by getting high-quality writing services at affordable pricing. It focuses on Website and Digital Ads copy and helps with related content like Press Releases, personal or company Bios, and YouTube Video Copy.
Pricing of Writesonic: Free Trial for 10 days, Basic starting at $15/month
---
KAFKAI
KAFKAi is an AI content writing software that helps the computer learn how to create content more efficiently and effectively than any human counterpart could. It helps to find the right information for a niche by using AI algorithms, which can help you generate full length articles with just a few words. There are plans that range from 100-5000 articles monthly, so if you're looking for something else or want to work with your company's specific needs, there are options available as well.
Pricing for Kafkai: Writer package is $29/month for 100 articles, Newsroom package is $49/month for 250 articles, plus more options. (3-day free trial)
---
PEPPERTYPE AI
PepperType AI is the only content writing platform that uses advanced machine learning with the Artificial Intelligence. This allows for templates and layouts to be created, as well as training options like videos, live online, webinars.
The GTP-3 technology has been updated to use modern AI technology. This new GTP-3 technology provides high-speed research needed for deep custom content, and ensures accuracy in full scale. This is a part of the top 10 AI content writing programs that every person should know about.
Peppertype Pricing: Starter Plan – $35/month (Free trial option – no credit card needed)
---
SCALENUT AI
SCALENUT AI is a content writing platform that uses machine learning to deliver accurate insights based on trending searches. It allows for companies to create entire content in one click without the need of human writers. Additionally, it's designed with marketers and content strategists in mind.
Scalenut has several features like pre-built templates, customizable text styles, and customization tools that make it easy for organizations to use Scalenut as their main source of long-form or short-form content.
Pricing for Scalenut: $26/month for Starter gives 15 document credits. Option for Free Trial.
---
NEURALTEXT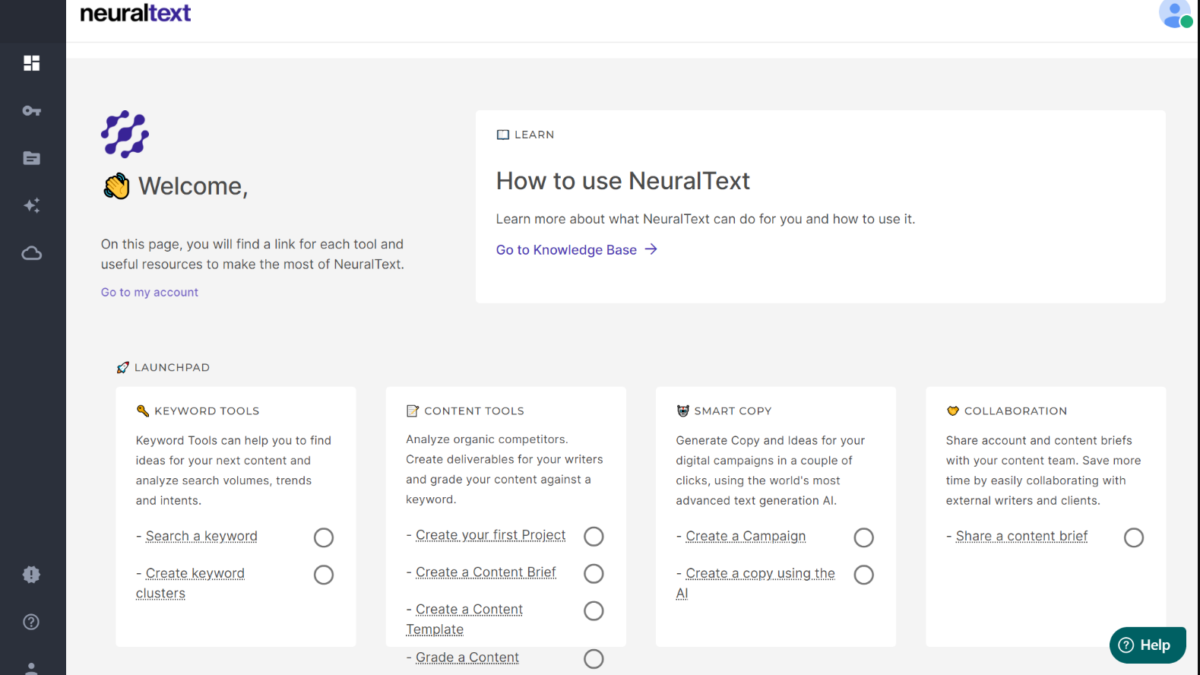 NeuralText is one of the most advanced natural language processing programs with the ability to learn and adapt based on textual data. It has a "self-learning" feature which can analyze the writing style of any individual and will generate text in their own voice.
Neuraltext is a machine-learning technology that uses artificial intelligence to amplify human creativity by generating new content, based on the information you provide.
It's a program for writing and marketing content, and it doesn't require any coding knowledge.
Pricing for NeuralText: Starter $49/month and there is a Free for life option that allows 5 content briefs and 5 keyword reports.
---
RYTR – Top 4 Picks
Rytr is an online tool that can be used to create AI-generated content for the web. It's one of the most popular tools on this list and has been recognized as such, with its cost just a fraction of what other writers would charge. It is a simple interface for the same GT-3 AI technology that all the other content writers are using without the extra frills.
Rytr is blazing fast, fully mobile optimized, and has a guarantee in every piece of work it produces.
RYTR is one of the most popular tools on this list. It has been recognized as such with with lower pricing, just a fraction of what other writers would charge. You get a lot of bang for your buck including a dedicated account manager, and unlimited characters.
Pricing for Rytr: $29/month and that is the full package.
---
INK Editor / InkForAll
Ink Editor or Ink For All is a content writing program that helps you create the perfect document. It has three different AI-based tools for topic suggestions, simplifying your sentences and rewriting them with an AI engine. It is the only non-web-based tool in this list (you download and install it).
INK Editor is a great way to get your content written and edited by an AI. This software uses artificial intelligence that catches spelling mistakes, grammar errors, plagiarism in the text without any human input. It also provides emotional suggestions pro which suggests topics for you if it senses that there are not enough words on the page when trying to write about certain subjects or areas of interest.
Pricing for INK Editor: Free option (limited AI), $39/month Pro, and $99/month Pro Unlimited option.
---
ZYRO – Special Mention
ZYRO is a new and innovative AI content writing software tied into a website builder. It was designed to help companies produce more quality content by automating the process of developing articles, blog posts, and other forms of online marketing material. It comes incorporated into website hosting and the AI website builder system. It is like a Swiss army knife for creating professional websites or online stores. Think Shopify or SquareSpace combined with unique AI writing magic.
The AI Writer uses an algorithm that generates unique titles for blog posts or articles based on keywords in your article's title. The AI Blogger creates unique blogging topics every day, which helps you stay relevant with your audience even if they change their interests over time.
With ZYRO, you can create content in minutes without the need for any human labor or costly labor-intensive software.
Pricing for Zyro: from $8.90/mth includes 3 free emails for 3 months. 30 day money back guarantee.
---
Top 3 Best Overall AI Content Tools
I have selected these 3 AI tools as the best options to improve your SEO writing. Whether you are an SEO Specialist, a marketer, a business, or a content creator looking to up your content game.
This full review article was written using Outranking AI as demonstrated in the video. Its focus on using SERP data, ease of content concept creation, and ability to fill in gaps quickly and easily using original content makes it the favorite in this review. Get it here
Jarvis is a solid AI which divides its focus into many other forms of content including social posts, ad copy, and more. It has a great support team and strong vision to be the leader in AI content writing tools. So if you are looking for a more rounded AI content writer, this is the one to get. Especially if you also add the Surfer SEO subscription to help power it. Get it here
Scalenut may not be as pretty as Jarvis, but it does many of the same functions, and adds the ability to outsource with professonal writers through its attached creator network. Get it here
Don't forget to check AppSumo for deals.